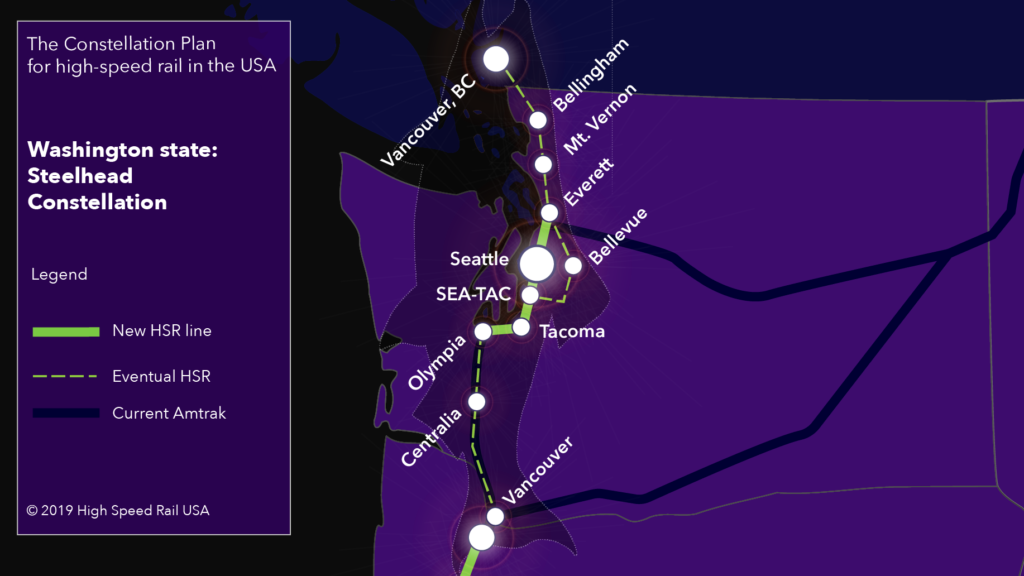 The Steelhead Constellation connects the region's major metropolitan area, Seattle, with the state capitol, Olympia, Everett, and eventually Vancouver, WA and Vancouver, BC. Once the initial line from Everett to Olympia is complete, Washingtonians can extend the line north to Bellingham, east to Bellevue and south in order to connect with the Oregon high-speed rail program. Seattle being the hub of the pacific northwest, there are already two Amtrak corridors stretching north and south and east to Chicago. The Steelhead Constellation helps connect to Portland, Oregon and Canada's ViaRail system in Vancouver, BC. This improves travel to and from Olympia, SEA-TAC international airport, Seattle, Bellevue, Tacoma, and Everett, and every medium-sized city on the west side of the state. These in-state extensions and enhancements will provide high-speed stations in three primary urban areas in Cascadia to connect, improve real estate values, incentivize construction in smaller cities, and extends passenger rail growth across the state to smaller mid-state cities, not just enhance Seattle. Imagine what you could do when traveling the 155 miles from Everett to Olympia in under an hour, or the Emerald City to the Rose City in under an hour!
Consider the possibilities for business or recreational, comfortable, low-carbon travel between Seattle to Vancouver, BC in about 60 minutes. This could help more Washingtonians meet with their elected officials in state government, strengthening our democracy, as well as local soccer and hockey rivalry games in Vancouver and Portland. Washingtonians, whether regular tourists or business travelers, should support a Washington Ultra High-Speed Rail program for clean-tech jobs in construction and maintenance, and to support a clean-tech economy for the new decade and beyond. From the Columbia River to the Fraser River Valley, and several stops along the Puget Sound region in the Evergreen state, multitudes of tech companies, local coffee roasters, fantastic restaurants, breweries, wineries, stunning landscapes with modern hotels and quaint beds and breakfasts, the Steelhead Constellation will connect Washington and Cascadia in myriad ways.
Following the I-5 and I-405 corridors, this plan will reduce carbon emissions from car and bus travel, which is good for the planet, Washington tourism, small businesses, tech corporations, farming, hunting, and wildlife, and help Washingtonians be more connected with contacts, family and friends in nearby cities and provide better, more reliable rail access to Oregon and British Columbia.
The initial phase of 155 miles from Everett to Olympia would cost around $20.6 billion and could create $183 billion in economic benefits to the state. Travelers can transfer to the existing Amtrak lines in Bellingham, Mount Vernon, Everett, Seattle, Tacoma, Olympia, Centralia, and Vancouver for connections to Oregon, Idaho, Montana, and British Columbia. Once Washington completes its high-speed rail constellation program, the entire west side of the state can have access to fast, reliable passenger rail from Vancouver to Bellingham, extending an extensive network of regional travel possibilities.

Follow @HSRUSA if you like this plan and want to support it becoming a reality.
Would you ask your elected officials and candidates to support this plan?
Book tickets now for travel from Berlin to Munich on board high-speed trains, and earn rewards points for train travel in nine countries!
https://www.blurrail.com/product/berlin-to-munich-round-trip-copy/