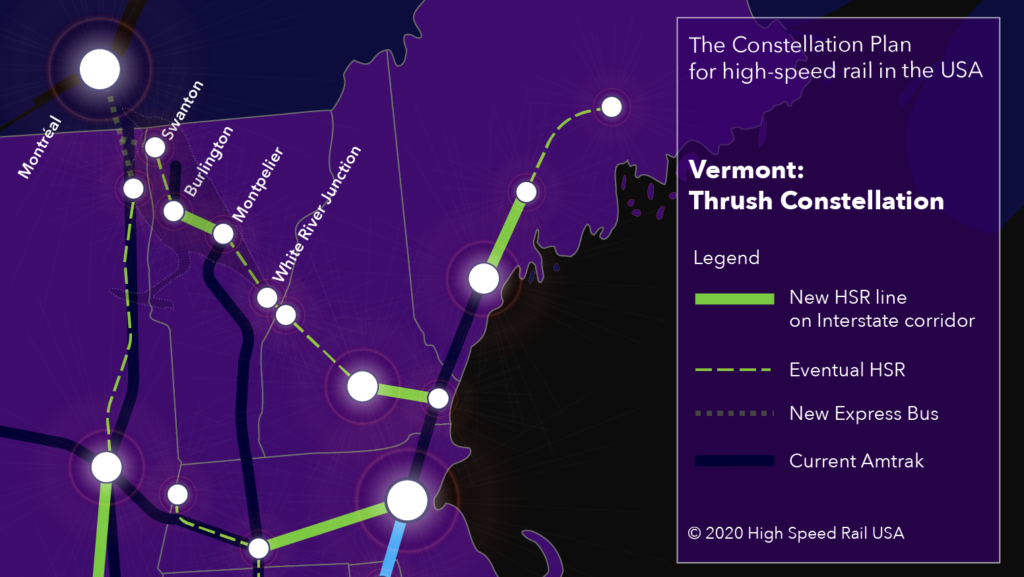 The Thrush Constellation connects the capital of Montpelier with the state's largest city, Burlington. Once this initial line is complete, Vermonters can extend the line northwest and south east in order to connect to New York, Montreal, and New Hampshire. This in-state expansion will provide high-speed stations in White River Junction and Swanton. This provides four primary urban areas in the state to connect, improve real estate values, incentivize construction in smaller cities, and extends passenger rail to Vermont. Imagine what you could do when traveling the 39 miles from Burlington to Montpelier only takes about 15 minutes!
Consider the possibilities for business or recreational, comfortable, low-carbon travel between White River Junction to Swanton in about 45 minutes. This could help more Vermonters meet with state candidates and officials in the future. Vermonters, regular tourists, and business travelers should support a Vermont High-Speed Rail program for clean-tech jobs in construction and maintenance, and to support a clean-tech economy for the new decade and beyond. From jagged mountains, through scenic valleys, to historic cities, the Thrush Constellation will connect the green mountain state like never before.
Following the I-89 corridor, it will reduce carbon emissions from car and bus travel, which is good for the planet, Vermont's farming, fishing, and wildlife, and help Vermonters be more connected with contacts, family and friends in nearby cities, as well as three neighboring states and provinces.
The initial phase of 39 miles from Burlington to Montpelier would cost around $5.2 billion and could drive $56 billion in economic benefits to the state. Travelers can transfer to the existing Amtrak line at Montpelier or White River Junction for connections to Massachusetts, Connecticut, and New York. Once New Hampshire completes it's high-speed rail constellation program, Vermonters can have access to a bus and rail corridor from Montreal to Portsmouth, unlocking a corridor of regional travel possibilities.
Follow @HighSpeedRailVT if you like this plan and want to support it becoming a reality.
Would you ask your elected officials and candidates to support this plan?