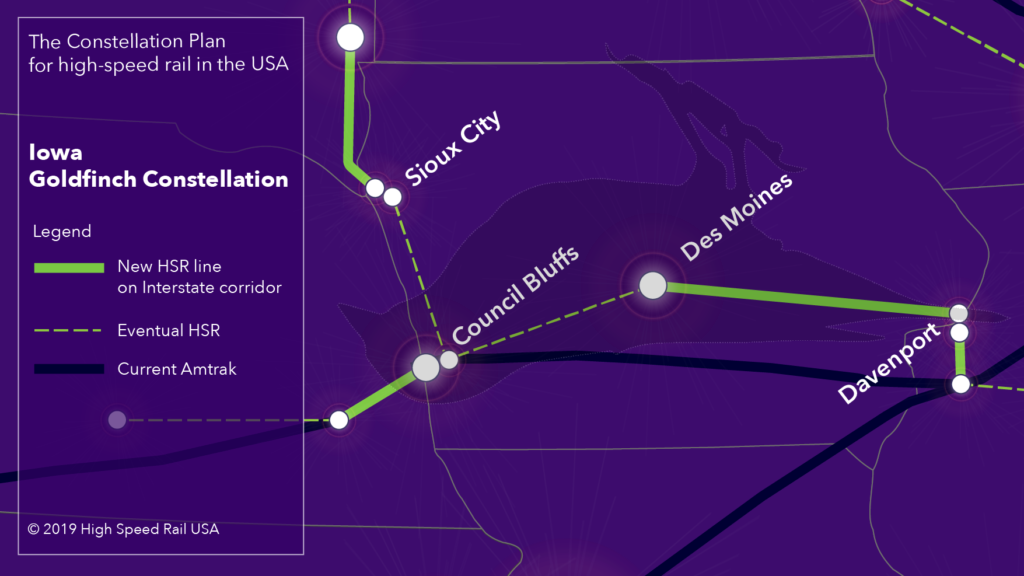 The Goldfinch Constellation connects the largest of the quad cities, Davenport, with the state's largest city, and capital, Des Moines. Once this initial line is complete it will give residents of Des Moines passenger rail access to Illinois and Amtrak. Residents of Davenport can expect an increase in property values on the expectation that they can commute to Des Moines in an hour.
Eventually, the line can be extended from Des Moines to Council Bluffs, with access to Amtrak and Omaha. The line can be extended to Sioux City providing access to the South Dakota line. The complete Goldfinch constellation allows Iowans to connect with three other state high-speed rail programs, improve real estate values in four primary cities, incentivizing smart growth construction in the smaller cities. Imagine what you could do when traveling the 167 miles from Des Moines to Davenport in an hour, or the 127 miles from Des Moines to Council Bluffs in under an hour. Sioux City to Des Moines is 198 miles in about 90 minutes by train.
This initial phase of Des Moines to Davenport would cost around $12.7 billion in construction, and could spark economic benefits of $113 billion to the state.
Consider the possibilities for business or recreational, comfortable, low-carbon travel between Sioux City to Davenport in about 2 hours and 30 minutes. This could help Iowans meet presidential candidates more easily in the future. We recommend Iowans ask the presidential candidates if they support this plan. It will create clean-tech jobs in construction and maintenance, and support a clean-tech economy in Iowas for the new decade and beyond.
It will reduce carbon emissions from car and bus travel, which is good for the planet, Iowa's farm, agriculture, and wildlife, and help Iowans be more connected with contacts, family, and friends in nearby cities, as well as three neighboring states.
Follow @HighSpeedRailIA if you like this plan and want to support it becoming a reality.
Would you ask your elected officials and candidates to support this plan?